Lover's Day
Did you know? Today is October 9, an important day here in Valencia!
The big reason is that today is Valencian Community Day, usually just called 9 d'Octubre by locals. This day celebrates when Jaume II d'Aragó conquered the capital and the creation of the Kingdom of Valencia.
However, today is also La Mocaorà. Simply explained, it's more or less like a Valencian Valentine's Day!
According to the old tradition, men gift the woman they love marzipan sweets shaped like fruits and vegetables inside a handkerchief (aka mocador, the Valencian word for it). Tradition states they have to be hand-made, but many bakeries already sell these sweets inside small packages ready to be gifted. You can get the mocador in the bakeries as well, but many places sell them days prior!
Actually, mocadors can get pretty big! Some people even envelop their marzipan sweets in shawls. The color you might see the most for both is blue. I assume that this is is because the flag of the Valencian Community, the Reial Senyera, has a blue stripe. But this is just a theory, so take it with a grain of salt.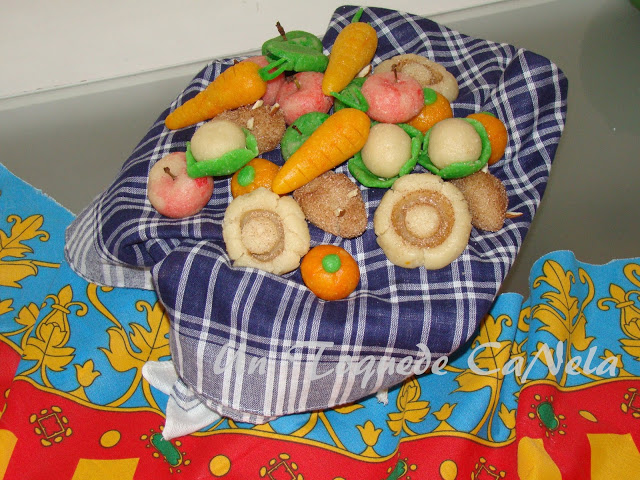 I have never been gifted a mocaorà as a romantic gesture, but my grandma has gifted them to me in the past! I don't really like marzipan (or baked goods overall), but handkerchiefs are an accesory I use often to tie around my hair, mostly when it gets long- it's always appreciated. When it comes to shawls though, I mostly wear them inside the house when the cold starts to settle in. But I love wearing them! They are always so pretty. If you have never worn one, I assure you, shawls are much warmer than you think.
And that's all for today! A rather short blog entry today, wasn't it?
But I thought it'd be a nice little fact to teach you (o゜▽゜)o☆
Thanks for your company!
---